Ocean Tech Campus by Chrispy Simon
ARTIST // Chrispy Simon
---
CREATION DATE // 2022
About
ARTIST STATEMENT:
Conceptually and humanly, the project caught me right away. I immediately had the desire to experience even more formats like the Ocean Future Lab. Such impulses are so important for us in these moving times.

My work consisted of visualizing the already very clear future vision of the workshop group. The wonderful elaboration of the narrative made it very easy to visually dive right into the topic.

THE NARRATIVE:
The scene is set in 2050 on the Baltic Sea, where the city of Rostock is an important educational and adventure destination. A floating part of the city is built in the Baltic Sea. On this platform there are very well trained trainers:inside, who pass on their experience and expertise to interested people during the duration of 2 month trainings.
The organizer of a campus on the terrestrial site of Rostock is responsible for the floating research station. It is an Ocean Tech Campus, where 16 scientific institutes with 2000 experts work together in an interdisciplinary way. As a renowned EU center of excellence for marine research, it is based on open source research and does not allow research for military purposes. Scientists and entrepreneurs as well as students and pupils work together in various projects.
In an abandoned shipyard, many different events and exhibitions are organized to enhance collaboration and shared learning so that startups can grow into large agile organizations supported by European partners. The Ocean Tech Campus is based on Citizen Science, where high schools can also be part of research projects. Citizens work closely with scientists, enabling students and researchers to transfer and aggregate knowledge. Many Open Labs are set up to provide hands-on teaching for scientists and students. These Open Labs are platforms for transparent data analysis and collection and help identify solution ideas and create innovations, e.g., ocean cleanup such as the Seabin.
There is also a new type of learning pathway now being developed for the marine environment where students can learn about other species on the coast and in the ocean.
In 2050, the most relevant and urgent thing is to salvage World War II ammunition and tanks from the Baltic Sea. There is a new law so that the producers of these old and rusty products will have to pay for salvage and recycling. In this way, money can be raised for further innovations needed to realize these operations. Subsidies to fossil fuel companies have ended in 2025 and now only be given to organizations that operate sustainably. The focus of this campus is a huge project to clean up the Baltic Sea. The cleanup will be marketed in the media and realized in a joint effort by a wide variety of actors. The highest focus is on transparency of all existing problems and clarification of joint efforts to find solutions as well as financial support. In this context, a digital platform will be created that will enable citizens to point out polluting companies. A kind of Wikileaks for polluter companies whose names can still be found on munitions and war crockery.
ABOUT THE PROJECT:
So far in 2022, the Ocean Future Lab project has held 4 online workshops as well as face-to-face workshops at the German Maritime Museum in Bremerhaven, the Ozeaneum – the German Maritime Museum in Stralsund, the Futurium Berlin and the Berlin International University Berlin.
In the workshops, utopian narratives on the question "How do we want to live with the oceans?" were developed in a transdisciplinary and co-creative way. Some of these narratives have been visualized by participating artists. Now we want to present these results to you. They will be presented in exhibitions of the participating museums, on the internet and social media to broaden the dialogue with a larger audience.
ABOUT THE ARTIST:
Chrispy Simon works as a Scribble Thinker and Visual Storyteller and simplifies complex systems of thought by making the knowledge and thoughts of the participants visible. As a trainer for visual thinking, he unleashes the creativity needed for better exchange and understanding in the workshop.
Works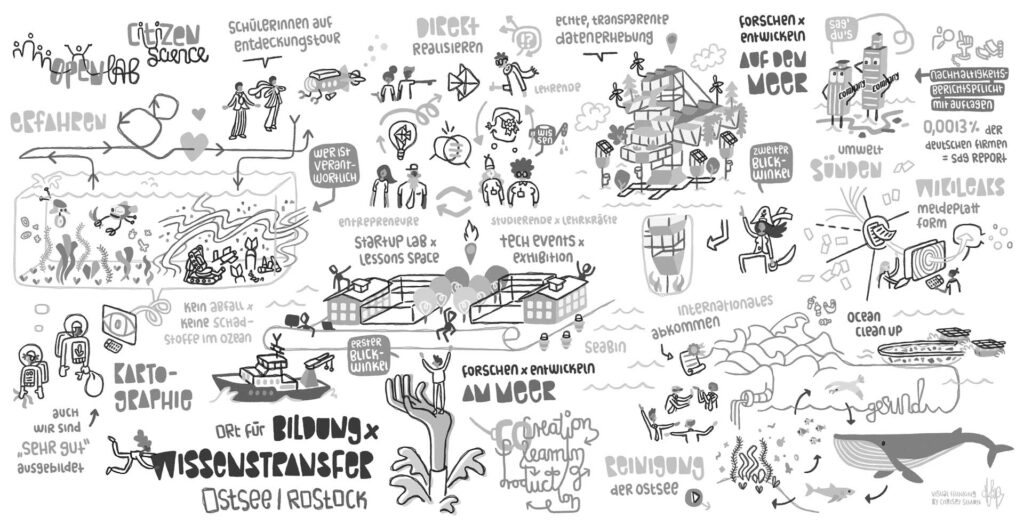 More about the Art For Futures Lab here